Answers
May 19, 2021 - 09:01 AM
Once you've completed
integrating the Answerbase conversion tracking widget
into your ecommerce site's order confirmation page, you'll want to test things out to ensure it's working appropriately and the connections are all being made well.
1) Post a Test Question on Your Product Page & View Answer
Go to one of your product pages and submit a test question on the site, something generic like "Do you ship to Canada?" and just post as if you were an end user. Once you've successfully submitted your question, go into your Answerbase Administration Portal and go under "Questions" and click on the test question you submitted...and answer that question. Check the email account that you identified when submitting your question and view the answer.
2) Submit a Test Order on Your Ecommerce Site
After you've viewed the answer to the question, submit a test order on the ecommerce site that you integrated into...so you can get to the order confirmation page where you placed the script. If installed the conversion tracking widget appropriately, it will recognize that you engaged with Q&A in the process of ordering and log the sale as being assisted by your Q&A engagement.
3) Test to Ensure Conversion Assist was Recorded
Within your administration site go under "Reports > Conversions" as seen here: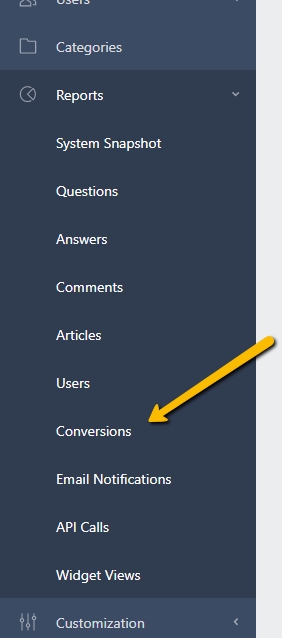 View the report and ensure that it says that you've had an order assisted by Q&A engagement as well as the total value of the order is accurate.
Things to check:
Ensure that the "Total Conversions Assisted by Q&A" has logged at least one order, which is likely your test order if you're a new site.
Ensure that the "Total Value of Assisted Orders" is reflecting an amount consistent with the value of your order. If you're a brand new site and this is your first test, this value should equal the total order value of the order that you just placed.
If the values that are reflecting appropriately, have your developers double check the parameter values that they're passing into the conversion tracking widget based on the
instructions to install the conversion tracking widget
.
If you've managed all of the above items and are still having issues, don't hesitate to
Contact Us
and we'll help troubleshoot and make sure you're 100%.