Answers
Dec 02, 2021 - 01:56 PM
Answerbase has a number of tools that will help eliminate spam, junk, and profanity from being posted to your account. Our goal is to make sure that you stay focused on the quality content without having to deal with the nonsense, so here we'll point out the tools we have available to do just that.
Anti-Spam Tools
You can see under "System Settings > Anti-Spam Tools" that there are a number of options available for you to help identify and manage spam which you can choose to enable/disable based on your preferences. Some of the options include the ability to identify publishing or blocking rules based on the user posting from a suspicious IP address, with certain keywords added, or even specific regions/countries of the world. See some of the tools here: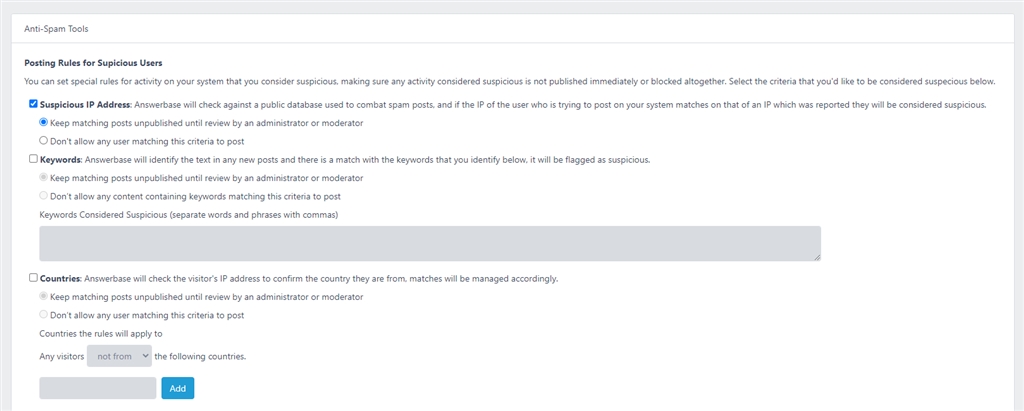 This helps ensure that you can set the rules that makes sense for your platform and preferences, to save you from spending time and resources on useless content.
Profanity Filter
You'll see under "System Settings > Profanity Filter" you can manage a list of profane words that you would like blocked from the system. Any words identified in that filter will be blocked out with an xxxxx and won't be visible to users.
Deletion Options
If any spam is posted and gets through any of the filters, and you choose to delete that content, you'll be given a choice of whether to just delete the content or mark the content as spam. The most common method of managing this is to edit the anti-spam filters mentioned above to ensure they'll capture similar unwanted activity...but if you want to be very strict you can mark the content as spam and start blocking the IP address of the user who posted as seen here: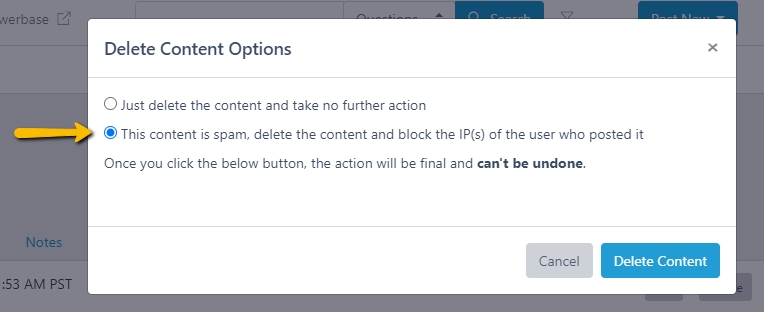 If you identify something as spam, you can block the IP(s) of the user who posted as well in the process....to help ensure that you don't have to continue manage spam from that location.
Google's reCAPTCHA
We give you the ability to enable Google's reCAPTCHA technology which will help identify if the user engaging with your form is a bot or an actual person. You can enable that as part of your form under "System Settings > Registration & Login" as you see here:

They will see an option as they post the question to ensure they're not a bot like this:

This helps to make sure that the content that is getting posted is posted by an actual person, and not just some bot created to spam the platform.